Welcome Video – CrossFit Skirmish & Energy Gym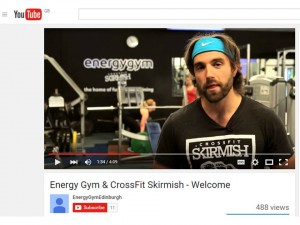 New Welcome Video – produced and directed by our Members!
We have a great team and fantastic community at Energy Gym & CrossFit Skirmish.  We care about you, your fitness goals and strive to help you get there – we also help to celebrate your achievements.  This is what sets us apart from all other gyms and makes our members part of a happy, motivated community.   It is our talented members who put this video together, special thanks go out to Chuck Cumming, Eve Jaron, Heather Anderson, Joe at 180 Training, Sarah Campbell, Scott MacFarlane and all those others who had 'cameo' roles in the film – we hope you enjoy it.   If you want to know more email us at callum@energygym.co.uk or call us on 0131 443 6526.