Scott Habib worked with CrossFit Skirmish to make it into the Scotland U16s Rugby Squad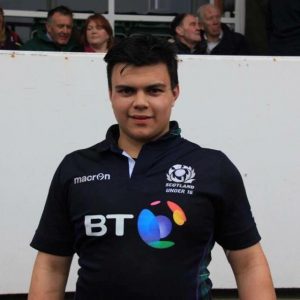 The Skirmish team have been working with Scott Habib for the last couple of years, helping him improve his overall fitness and strength, setting him up for his spot in Scotland's under 16s Team:
"I got into CrossFit S&C a couple of years ago after watching a training video of the All Blacks' Ben and Owen Franks – they described CrossFit S&C as their competitive edge.  I thought if it made the difference for them, why not try it?   
When I started working with Sasha & the team at CrossFit Skirmish my overall fitness levels were poor, I also had limited power which was holding me back in my rubgy. 
They put me on a tough programme which included incredible conditioning work from box jumps to pistols and some really tough HIIT training techniques.  Uniquely, I was also taught Olympic weight lifting and mobility techniques so that I could hold my own on the front row.  
I believe working with CrossFit Skirmish made the difference for me, getting me into the Scotland squad.  It has also meant that although only 15 I am now training with seniors – I am now so much physically stronger and fitter than other guys my age.  Interestingly, the training at the SRU is now really similar to the programme I was on at Skirmish!
If you are serious about rugby or any other sport, start training at Skirmish."